Easy Craft for Kids - Shoebox Aquarium
(This easy craft for kids project is suitable for any age.)
This fun easy craft for kids has the bonus of being educational as well as decorative.
I enjoy doing this craft with the children in my family because it sparks their imagination and is a great way to learn about life in the ocean.
Using books, magazines, and the computer you and your child can find a variety of underwater items to put in the aquarium. You can even make the scene of a sunken pirate ship or a lost city. And the best part about this easy craft for kids is you never have to feed the fish!
To make your easy craft for kids shoebox aquarium, you'll need:
Shoebox - any size
String or thread
Construction paper
Stickers with ocean plants and animals (optional)
Paint
Glue
A thumbtack or other small sharp tool to poke holes with
Follow these steps to complete this easy crafts for kids project:
First paint the inside of the shoebox. This easy craft for kids is going to be an underwater scene, so help your child pick out the colors they think look most like the ocean. You can also paint the outside of the box with colors that match your child's room.
Now decorate the ocean with sea plants. To help your child find pictures of plants that live in the ocean, look them up in an encyclopedia or on the computer.

You can either cut these plants out of construction or other colored paper, print designs off a computer and cut them out, use stickers of ocean plants, or paint them directly on the inside walls of the shoebox ocean. If you cut them out, glue them inside the box with regular craft glue or a glue stick.

With the plants you can put other things that may be in the ocean like a sunken ship or a treasure chest. You can even add in some shells to give the aquarium a more realistic touch. Help your child use his or her imagination and there is no limit to what kinds of scenes you can make together in this easy craft for kids.
Now it's time to put sea animals into the aquarium. Look these up also to see what kinds of animals are found in the ocean. Draw, print, or use stickers of animals that will live in your aquarium.

You can put in fish, sea horses, and any other animals. For a storybook ocean, you can even put in mermaids. To add the sea animals, poke a small hole in the top center of the animal and thread some string through the hole.

Tie a knot so the animal doesn't slip off the string. Be careful not to tie it too tightly though, or you may rip the paper. Next poke a hole anywhere through the top of the shoebox.

Thread the string up through this hole and tie a knot in the end outside the box. Your creature will now hang inside your easy craft for kids aquarium.

Repeat these steps with as many items as you want and help your child turn this easy craft for kids idea into a whole ocean neighborhood.
Use this easy craft for kids idea to add a touch of whimsy to your child's bedroom.

Recommended reading for more ideas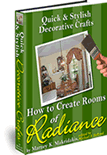 Quick & Stylish Decorative Crafts (Includes SILVER Bonus Package)
Learn the simple techniques for turning outdated items into high-end decorator pieces. Just follow the 275 step-by-step color photos and instructions. And before you know it, you'll be filling your home with custom accessories and furnishings at a fraction of what they would cost you new. (Click here to learn more.)

101 Easy Craft Project Ideas
Whether you want to create personalized unique gifts for your loved ones or make exclusive home decorations for show or sell, this book will bring you hours and hours of satisfaction and enjoyment. Click here to learn more.

If you like this easy craft for kids, click here to return to the home page for more great ideas for decorating kids rooms and creating crafts.