Grab Your FREE Free Kids' Rooms Decorating Ideas!
When you subscribe to our FREE e-zine, Kids Rooms and Crafts, you'll get a double-dose of decorating delights!
And best of all, you won't have to pay one dime! Here's what you'll get for simply signing up.
First, to help you decorate your child's room, we've created a new ebook that's chock full of fresh decorating ideas.
100 Creative Themes for Decorating Kids' Rooms contains more excting ideas than you can shake a stick at. (What does that mean?).
Anyway, there's some great stuff inside and you'll be able to put an end your weeks of frustration and hair-pulling searches. Oh, and did I mention it's 100% free?!
Next, you'll be able to download the first 72 pages of our unique home decorating ebook that guides you to creating the home of your dreams, even if you're a decorating beginner and have a limited budget. Yep, it's free also!
In these photo-filled and idea-packed pages you'll gain surprising insights into your own decorating style and preferences that could save you hundreds, if not thousands, of dollars.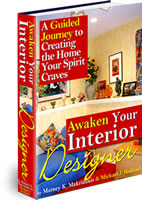 Your FREE Home Decorating eBook Sample
Awaken Your Interior Designer: A Guided Journey to Creating the Home Your Spirit Craves is our new 328 page eBook.
To get the inside scoop on what makes this book different from all others, click here.
Now back to your free downloads. Here's all you have to do...
First, sign-up below for the Kids Rooms and Crafts e-zine.
It delivers great money-saving decorating tips and product ideas directly to your e-mail box each month.
Once you confirm your FREE subscription, you get full access to all back issues.
Just select a recent back issue and inside you'll find links to the download pages for the decorating ebooks.
That's it!
You'll be in business in no time at all...Download Your Free Copies Today!